Since anime is fast becoming a favorite in many homes, adults and children watch them. What's more, there's anime for babies. We all know that babies are pretty adorable humans. They have such a beautiful, innocent aura that makes you want to hold them for as long as you can.
Interestingly, in anime, babies are even way cuter. They are given different colors and shapes, and they have superpowers. Anime babies could be human babies or alien babies. They have magical abilities and superpowers. Whether boy or girl, anime babies evoke happiness. Here are some of the best baby anime 2022.
1. Baby Beel from Beelzebub.
The first baby anime on our list is Baby Beel from Beelzebub. Baby Beel is a baby demon lord who was sent to earth to destroy humans. He is green-haired and is always completely naked.
While in the world, he took to Tatsumi Oga, who saved him. Tatsumi eventually became Baby Beel's adoptive father. Tatsumi is a high school delinquent who was very kind to baby Beel and hired a maid named Hilda to take care of him.
Baby Beel has supernatural powers like electrocution. He also has a magical demonic pipi that could destroy anything. This means baby Beel's urine can sink a whole town. Although he was a powerful infant, he was afraid of insects and lost whenever he fought with cats and other babies.
He was also always shy whenever he was around girls because of his nakedness. Baby Beel is unarguably one of the cutest characters. His adoptive father, Tatsumi, was a stubborn man. However, he was always tender when he took care of baby Beel.
2. Mao from Chibi Devi.
Mao from Chibi Devi is another anime baby you should look out for. Chibi Devi is centered around the character Sawad Honoka. In the story, Sawa doesn't believe in religion. She believes God, Angels, and devils are non-existent. Due to Sawada's religious neutrality, she is mocked by her peers at school.
One day, Mao, a devil baby, was dropped into Sawada's room, and Sawada eventually became Mao's adoptive mother. Mao is an adorable baby boy who could be mistaken for a girl. He is always found crying for the most irrelevant things.
Mao is very protective of Sawada whenever she is in trouble or jeered at by her classmates. He uses his fire-breathing abilities to attack them. Mao was very loyal to Sawada, but he could be timid around people he was unfamiliar with.
Mao loves to eat pancakes. Although very adorable, Mao was also ferocious and wore a beautiful dragon costume to breathe fire.
3. Ai from Doki Doki PreCure.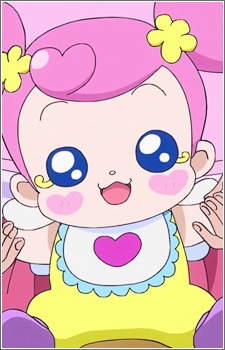 Another best baby anime is Ai from Doki Doki PreCure. Ai is an adorable and magical baby. She is a baby fairy who hatches eggs and eventually becomes an egg. Ai has pink hair that's tied in two buns.
She has rosy cheeks shaped like a heart, fluffy white wings, and bright blue eyes. Ai is such a beauty; other girls could confirm it. Ai has some attributes that real babies have. For instance, she can only mutter Ai and another unusual word, "Kyupi."
Ai had magical powers to evoke transformations or tiny pins containing new attacks. Ai hates carrots and becomes paranoid anytime transformations eat them. She creates barriers to protect herself from danger.
4. Ruu the baby from Outer Space in Daa! Daa! Daa!
Daa! Daa! Daa! Is the fourth-best baby anime on our list. It tells the story of Miyu and Kanata. Miyu's parents left him in the care of Kanata's father because they were going on a trip. Kanata's father, too, had to go on a trip leaving Muyi in the care of Kanata.
One day Ruu crashed into Muyi and Kanata's house. Ruu is an alien baby who is blonde-haired and violent-eyed. He mistook Muyi and Kanata for his parents, and he began to call them mum and dad.
Ruu is not a typical baby. Although he had some characteristics of a normal baby like crying and laughing, Pepe had the power to levitate and perform telekinesis.
Sometimes he uses these powers at the wrong time, which lands Muyi and Kanata in trouble. Ruu is one cute baby anime character that would make your kids happy.
5. Pepe from Shugo Chara.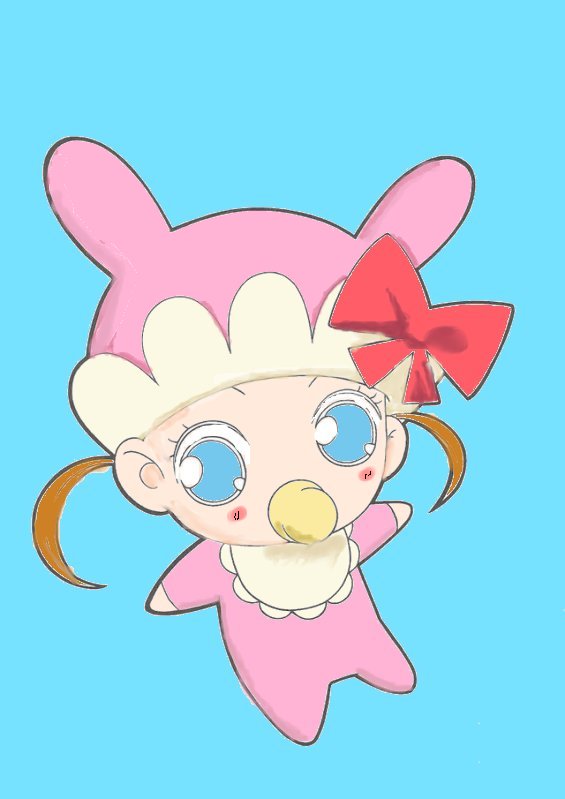 Pepe from Shugo Chara is a stunning and adorable baby anime. She is one of the cutest and most beautiful baby anime with a pink baby outfit, a bunny hat, and a yellow pacifier. She also has gorgeous big blue eyes.
Pepe has great communication skills, better than what babies her age possess. Pepe was born from a desire to be born again and powered by her parents. She has a guardian named Yaya that can sense the presence of X- eggs and Charas.
Pepe gives her guardian various powers. She also transforms Yaya into her character change. Shugo Chara is an exciting anime. In fact, it received an award for best children's anime.
6. Baby Justus, the spellcaster from Shakugan no Shana.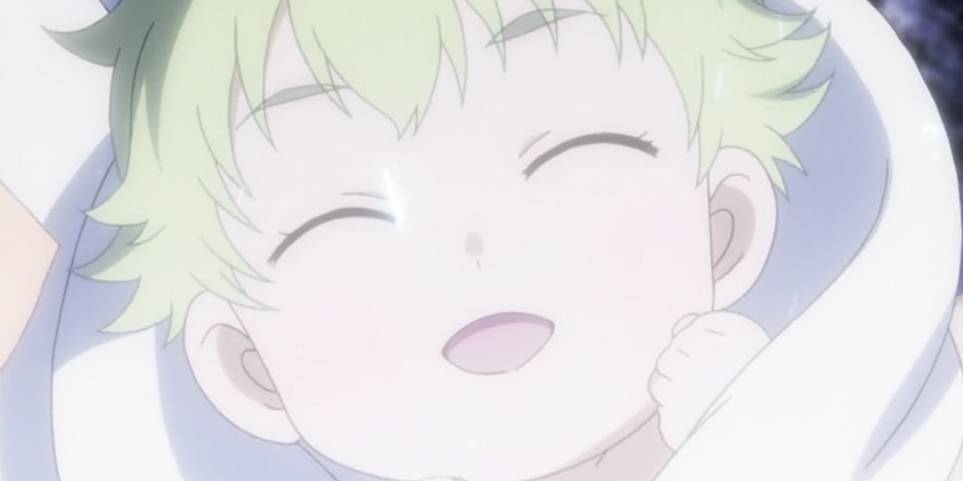 Baby Justus from Shakugan no Shana is a one-year old baby anime. He is a product of a relationship between Joha, a crimson lord, and Pheles, a human, making baby Justus half human and half spirit. Baby Justus has beautiful light green hair with an even more attractive smile.
He is a very talented baby that can access the power behind spell casting. He is believed to be one of the most powerful spellcasters in the future. Baby Justus is a lovable character in the anime.
7. Ivan Whisky from Cyborg 009.
Iva from cyborg 009 is one of the best baby anime 2022. Ivan is a baby cyborg. He was given the code name 001. As a baby, Ivan was frozen for a long time, so he retained his baby appearance. He is one of the most potent cyborgs.
He shows up in challenging situations that the other cyborgs cannot handle. He could create battle strategies and solve mysteries in record time. He can use his powers against the evil skull and the black ghost.
Ivan also possesses psychic abilities like telepathy and telekinesis. This baby anime isn't just influential; he is also so cute. He has blue hair with emo-style bangs that cover his eyes.
8. Katekyo Hitman reborn.
Katekyo hitman reborn is also an exciting baby anime that made it to this list. Katekyo is not your regular cute-faced adorable baby. He is a hitman sent to tutor and train Tsuna. He is acclaimed as the strongest human in the world.
His job is to train Tsuna to take up his position of being the mafia leader. Tsuna proved lazy and a loser, so Katekyo was quite a challenge to teach him and get the desired results. An Italian group sent Katekyo Hitman Reborn to convince Tsuna to lead the Vongola family.
9. The demonic infant from Inuyasha.
The demonic infant from Inuyasha is another baby anime you would love. Also known as Akago, this baby is quite an interesting character. He is one of the many manifestations of the demon Naraku. Naraku is the main character in Inuyasha.
He separates his heart from his body. His heart is contained in a vessel- the infant Akago. Akago has very high intelligence and can manipulate a person's emotions.
Interestingly, Akagi has light violet hair and eyes. He usually has a blank look when he isn't angry or happy, and he can think and talk like an adult.
10. Kiyoko from Tokyo Godfather.
Kiyoko is our 10th best baby anime. Kiyoko means "pure child." Tokyo GodFather is the story of three strangers. One is a transvestite, the other is a middle-aged alcoholic, and the last is a girl who ran from home.
They all found a baby in the trash on Christmas eve and were determined to find the baby's parents. And so their journey began. While on this journey, they all met with things that reminded them of the lives they left behind.
This anime focused on these three characters, their troubles, and their concern about keeping kiyota safe.
Kiyoko had a mole on her right eyebrow which made her very cute. She is believed to have been born days before Christmas. Tokyo Godfather is best saved for Christmas, but you can watch it at any time of the year.
Conclusion.
If you haven't been watching anime, you are late to the party and need to catch up fast. Anime isn't for children alone; adults also watch anime. The baby anime we have on this list are all adorable and have unique powers. If you haven't already, you should check out one or all of these anime.