Japanese kitchen knives (bocho) are known for their sharp high-quality blades and distinctive design which is layered in their unique history of traditional Samurai swords. Making them one of the world's best producers of kitchen knives. 
Japanese knives are popular among professional chefs and home cooks. They are handcrafted nicely and designed for kitchen use. Also, they are renowned for their quality, durability, and high standard blades, with a unique handcrafting process that takes about seven days. 
Most home cooks who use Japanese knives never try anything else after that. If you're new to the world of Japanese knives, and you're looking for some of the best Japanese Knives for your kitchen, then this post is for you. Here's a list of the best Japanese Knives to look out for.
1. Gyuto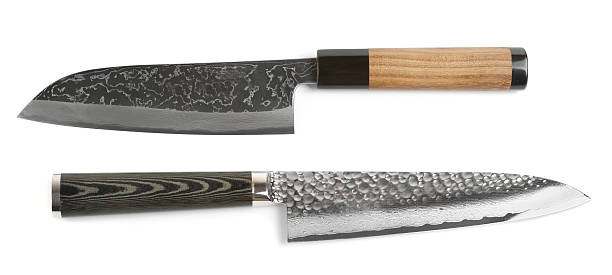 If you are looking for an all-around multipurpose knife, then Japanese Gyuto is just about the right pick for you.  Its multi-purpose nature makes it perform a wide range of cutting tasks like large chunks of meat, fruits, fishes, and vegetables. 
Gyuto is thin and light. Its balance point tends a tad forward towards the tip and can be used for precision cuts. It is unique, agile, and accurate for use. An example is the Hattori Forums FH Series Gyuto. 
It is great for cutting bulk weight and value, it is quite pricey but its usefulness is worth the price. Available blade length ranges between 180mm and 300mm. For home cooks, we recommend 180mm – 210 mm while 240mm – 270mm for professional chefs and serious amateurs.
2. Deba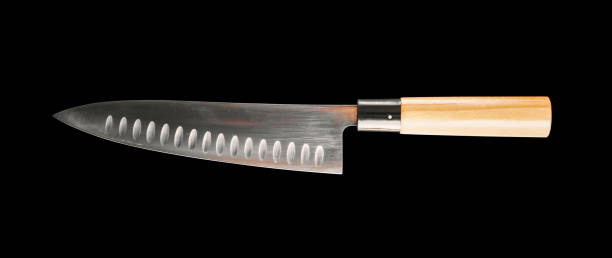 This Japanese knife is traditionally used in Japan for cleaning and filleting whole fishes. Other than that, it can be used to part out and dress poultry, break down meat, and small bones. It is stout, thick, and has a desirable weight. 
Generally, Deba is designed for cutting fishes, however, it can adapt to other purposes when used with the right technique. Using Deba means learning how to use and maintain a single bevel. With this, you'll enjoy every aspect of this knife's unique nature. 
This knife has a sturdy heel section that you can use to chop through bones found in both medium and small-sized fishes and poultry. It is good for delicate work. So cutting through tough large bones can destroy the knife. 
Deba knives come in blade lengths between 150mm-330mm but we recommend 180mm blade lengths for home cooks.
3. Sujihiki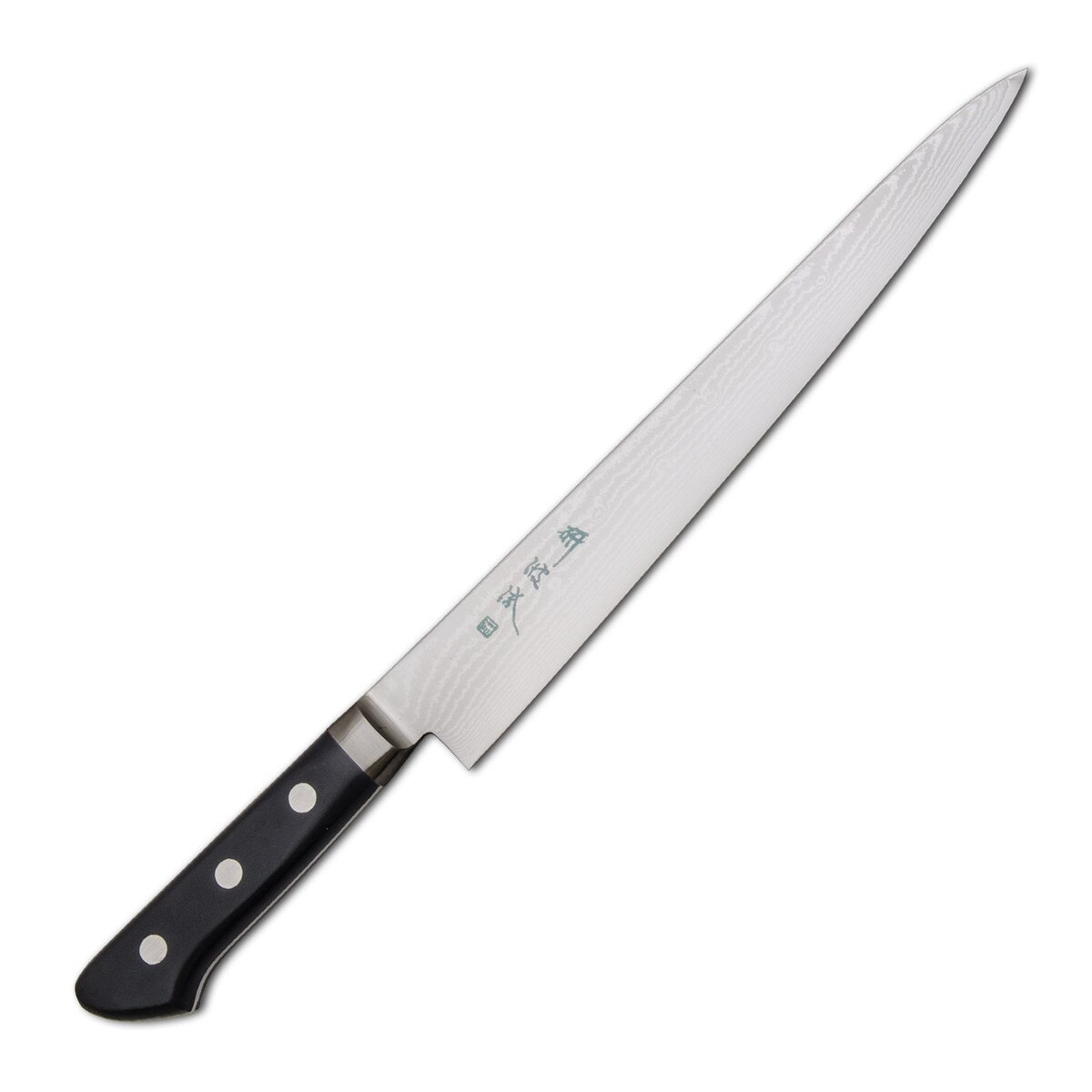 When it comes to cutting finely sliced meat or fish, then Japanese Sujihiki is just the right knife for this job. It is majorly designed to trim out fat from meat and to fillet and skin fish. The Sujihiki is a long Japanese knife with narrow graceful blades. 
The blades have a relatively acute edge angle, used to reduce the level of effort required to cut through your ingredients. They are long, with sharp edges that help cut through ingredients nicely. 
With a Sujihiki blade, you can cut in a single draw, from heel to hip. If you know the techniques of using this knife, it would be pretty easy to fillet or trim your fish, preserving its original flavor or texture.
Often, we recommend blade length sizes between 240mm for home cooks and 270mm and 300mm for professional chefs. All three sizes are quite popular. An example of a Sujihiki knife is the V10 Damascus Sujihiki.
4. Nakiri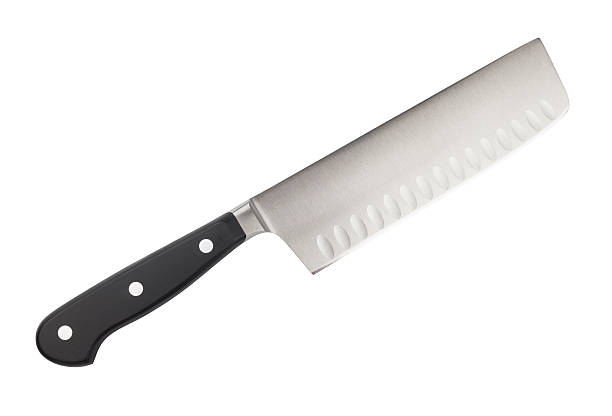 If you are looking for a vegetable knife great for cutting greens, then Nakiri should be one of your top choices. It is a rectangular thin knife with straight blade edges, great for cutting vegetables in straight slices. 
With Nakiri, you cut through your veggies easily when you chop. Its thin blade and lightweight profile make it easy to quickly slice and mince fruits or vegetables. The blades are slightly tall and the double-beveled edges reach the end of your chopping board. 
Nakiri is quite popular in Japan and is fast becoming a popular knife among vegetarians. You should know that the features of this knife do not allow for heavy-duty cutting since it would destroy the authenticity of the knife. So do well to avoid it. 
One Nakiri knife great for home use is the Moritaka Ishime Nakiri. It is quite efficient for your veggies or fruits and will come in handy. It comes in different blade lengths 165mm and 180mm.
5. Santoku

Santoku is another Japanese knife popular both in and outside Japan. It is known for its all-purpose characteristics as a general kitchen knife with a flat edge and a sheepsfoot blade. 
Santoku blade is general because it can slice, chop, mince and dice a variety of kitchen ingredients, making it well-suited for home use. Ingredients such as meat, fish, and vegetables are the three main ingredients this knife is used for. 
One of these types of knives is the Tsuchime Hammered Damascus Santoku. It is known for its aesthetics, symmetrical edge, and versatility. It is safe for beginners, durable with high performance.
6. Petty 
This Japanese-style knife was derived from the French word "petite". It is quite small but suitable and fit for any hand size. As a general-purpose knife, it can be used for slicing, peeling, and shaping fruits, herbs, and vegetables.
If you are looking for a handy knife best suited for peeling your fruits, veggies and making garnishes, then a petty knife is what you need. The size ranges between 75mm and 180mm which is suitable for both home cooks and professional chefs. 
The shape of a Petty knife is similar to that of the Gyuto. What differentiates it, is the largeness. Beginners usually feel more comfortable working with a petty knife than with Gyuto since it is controllable and agile. 
As a beginner, a petty knife is a great knife to use. The Fujiwara Kanefusa FKM Series Petty is one product you should try.
7. Usuba
The Usuba is much like the Nakiri knife. It is a traditional vegetable knife for professional Japanese chefs. It is suitable for veggies and fruits as it has sharp blades that help produce cut surfaces. 
It also helps to reduce discoloration or change in the flavor of ingredients. With Japanese Usuba, you can cut large ingredients such as cabbages since its blade is relatively long. Usuba knife has a versatile middle section used to slice vegetables and to perform what the Japanese call "katsuramuki". 
The Masamoto Kasumi Usuba knife is one product you should try. Like all Usuba it has a single bevel blade that is great for home use and professional chefs. We would recommend blade sizes between 180mm and 210mm for home cooks. 
8. Yanagi
This is a long, thin knife traditionally used for Japanese cuisines. It is often used by chefs to prepare Sashimi and nigiri sushi. One thing you should know is that the Yanagi is used for filleting boneless fishes. 
With its long and thin blades, it can cut fish slices in one draw, reducing the pressure you apply on the flesh of the fish. This way, the fish retains its original form with nicely cut lines. Different techniques can be used with the Yanagi to give your fish the appropriate texture and look you require. 
For more efficient home use, we recommend a 30cm blade length. Global G-11 Yanagi Sashimi is an example of this Japanese knife.
9. Honesuki
Honesuki was typically designed to de-bone, and break down poultry. However, it is now also used to fillet fish and meat. This triangular-shaped blade is thin, light, and possesses rough and sharp edges. It is durable and can cut around bones quite nicely. 
With Honesuki, you can cut in and around the bone, trim fat, giving you precise cuts. You should know that the knife is not a recommended fit for cutting through bones since it could destroy the durability of the knife. Glestain 415TK Boning Knife is one of the Honesuki products.
10. Kiritsuke
This particular Japanese knife is popular for its hybrid nature. It combines features of both an usuba and a Yanagi. Like the Santoku, it is a general-purpose knife. You can use it for cutting your vegetables, as well as for slicing fish fillets for your favorite sushi. 
Typically, the Kiritsuke is a single bevel knife but recent brands have been producing a double-beveled knife known as the Kiritsuke Gyuto. 
Kiritsuke blade has a pointed agile tip with a flat profile. It is also delicate and appealing. An example is the Goko White Kiritsuke. It has a blade length of 240mm and is suitable for professional chefs who can handle and maintain its single bevel blade. 
Conclusion 
The following knives are the best Japanese knives you can find. They are durable, easy to use, and efficient once you know the best cutting techniques to use with them. Once you begin using Japanese knives, you may not want to try any other product, except theirs. To get the best from these knives, see how to sharpen and maintain Japanese knives.