While most people wouldn't mind the sight that comes with a formal sushi bar, others find going to a high-priced, over-the-counter waiting for the sushi master setting a bit out of their zone. They prefer the Conveyor belt sushi restaurant popularly called Kaitenzushi.
Kaitenzushi are sushi bars that let you eat sushi to your fill without having to wait too long for that display of grandeur as the itamae takes his time to prepare the only-in-japan seasonal flavored sushi and serves you piece by piece.
Looking for kaitenzushi that's worth your time, then these are the best conveyor belt sushi restaurants you should check out.
1. Sushi No Musashi.
To enjoy lots of sushi without having to spend so much money, you can try Sushi No Musashi known for being the best Kaitenzushi in Kyoto. It is a nice restaurant with a bright interior. Designed in a square shape, the center of this kaitenzushi is where the sushi chefs prepare the delicious delicacy.
This conveyor belt sushi restaurant makes excellent sushi with various options at an affordable price. You can also order your ready to go if you choose not to wait in line. Sushi No Musashi has sushi available for takeout, and with just 130 yen, you can order a plate of sushi for a start.
You can get varieties like traditional sushi rolls, makizushi, gunkan maki and Nigiri. In fact, at sushi no Musashi, you can either choose your preferred sushi plate from the conveyor belt or order freshly prepared ones.
Sushi No Musashi was founded in 1977 and currently operates about three sushi stores in Kyoto. When you visit this sushi restaurant, prepare to meet a line out front. The good thing is, you won't have to wait too long, and their sushi is top-notch.
2. Hamazushi.
Hamaguchi is another conveyor belt sushi restaurant known for its deliciously prepared sushi plates. Located in Miyazato Nago City, Okinawa prefecture, Hamazushi has about 500 outlets all over Japan. It is one of the most popular conveyor belt sushi restaurants in Japan. The sushi here is made with the freshest and tastiest fish.
Like every kaitenzushi, Hamazushi gives great sushi service, offering deliciously cooked sushi plates with menu items like standard tuna sushi, salmon sushi, beef sushi, and other unique options like the meat and tempura sushi.
They also have a well put together side menu that offers deep-fried foods like ramen, Udon, and others. You also get dessert options such as cheesecake, ice cream, and chocolate cake to complement your sushi. With branches all over Japan, Hamazushi serves sushi at very affordable prices.
You can get a sushi plate for 100 yen without tax and about 110 yen including tax. So when next you're in Japan, look out for the nearest Hamazushi near you and have an enjoyable conveyor belt sushi.
READ MORE: Udon vs Soba.
If you're looking for a multilingual menu-friendly sushi restaurant, then kappa Zushi is just the right option for you. As a combination of family restaurants and sushi bars, Kappa sushi is considered the best moderately priced conveyor belt sushi in Japan.
With its main branch located in Pontocho Kyoto, this sushi bar specializes in Edo Mae classic sushis and offers other varieties. The interior design of this sushi bar is plain and traditional, with bright lights and lovely woodwork.
You can get a plate of authentic sushi for as low as 100 yen. But for more expensive unique dishes like the otoro, you should be willing to part with about 400 – 500 yen. Favorite sushi plates include pork strips sushi, fried meat shrimps with mayonnaise, shrimp tempura, and tuna nigiri. You can also get side food and drinks to down your sushi with.
4. Sushiro.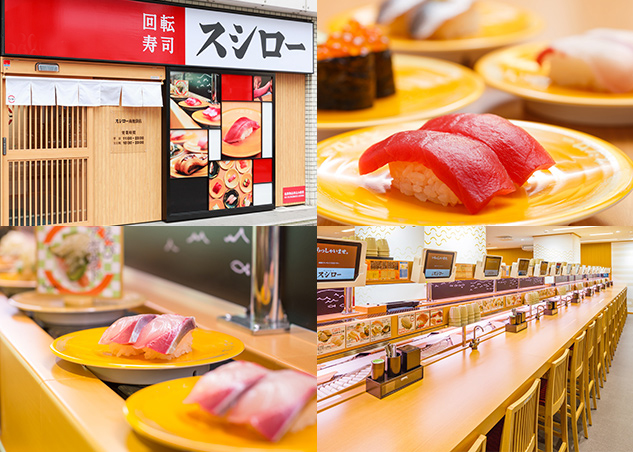 Sushiro is another popular conveyor belt sushi restaurant known for serving Japan's best take-out sushi. It is headquartered in Suita, Osaka. Sushiro began first in Osaka with founders who wanted a splendid sushi experience.
Founded in 1984, Sushiro is over 30 years old and is the largest conveyor belt sushi restaurant having about 140 million customers in a year. Currently, Sushiro has over 450 shops in Japan.
Interestingly, the sushi in this restaurant is prepared with tuna from a particular part of Japan. Apart from that, other side dishes like wasabi and tea are from specific places in Japan. Experienced sushi chefs carefully prepare Sushiro sushi.
The sushi is made with exceptional cuts, which take more time to prepare. You can reserve a seat for yourself ahead of time through a phone application for better service. Once you visit any sushiro close to you in Japan, be sure to prepare for more visits because their sushi rolls are divine. You can get a sushi plate for as low as 100 yen.
5. Kura Sushi.
Like sunshine, Kura Sushi is another conveyor belt sushi restaurant chain with about 450 outlets in Japan and 30 restaurants in the US, and 22 in Taiwan. Interestingly, Kura sushi is decorated based on characters from "Sonic the Hedgehog" and "Hello Kitty". Its menu items also feature these characters.
What's more, when you dine here, you get a chance to win prizes. So if you're looking for something fun while you stuff yourself with cheap plates of sushi, you should look out for Kura sushi.
At Kura sushi, you can order everything from sushi plates, tempura bowls, udon to french fries, onion rings, and burgers. You can also order desserts like puddings and cakes. A sushi plate costs about 100 yen which is a pretty reasonable price.
READ MORE: Best Japanese Snacks Brands.
6. Kyo-Suzaku Sushi Ichiba.
Kyo-Suzaku Shush Ichiba is located in the Kyoto wholesale Central market. It is a popular conveyor belt sushi restaurant that serves sushi made with fresh fish at pretty affordable prices. The sushi chef makes your sushi right in front of you.
In this conveyor belt sushi restaurant, you can get authentic, fresh fish sushi since it is located where they sell seafood. The sushi styles here range from Nigiri to gunkan. Apart from sushi, they also have miso soup and fish soup on their menu.
Kyo-Suzaku sushi Ichiban also sells sushi at reasonable prices. However, these prices depend on how fish is sold in the market. Apart from enjoying the sushi, you also get to enjoy the performance of the sushi masters as they prepare this sumptuous delicacy.
7. Genki Sushi.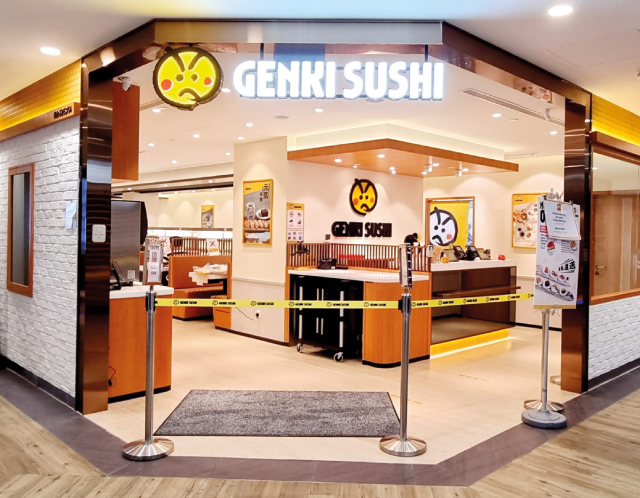 Genki Sushi is located in Shibuya – the times square of Tokyo. Founded in 1968, this conveyor belt sushi restaurant has outlets in several countries, including the United States. Genki has its headquarters in Tochigi, Japan.
Like most conveyor belt sushi restaurants, Genki Sushi is open for dining and takeout. You can also order online for sushi to be delivered to you. This restaurant serves delicious Nigiri and Aburi sushi. Their menu is flexible, so you have other varieties apart from sushi.
8. Kaiten-Sushi Uogashi Aon Mall Kyoto.
Situated just inside the Aon Mall Kyoto shopping mall is the Kaiten-Sushi Uogashi. It is a spacious restaurant that offers delicious sushi made from fish bought from the fish markets fresh every day.
Apart from that, they also have their menu in English, Chinese, and Korean. So if you are a foreigner, you need not worry about a translator. What's more, it allows you to walk around the mall and buy a few things before stopping by for your plate of freshly made sushi.
You should most definitely, try out the tuna trio. It has three pieces of tuna, the extra fatty otoro, fatty chutoro, and the red meat cut of tuna. This combination gives you something to enjoy.
9. Enraku.
Naraku is another kaitenzushi in Okinawa prefecture. It offers enjoyable fresh sushi at a pretty cool price. Since they get their fish from a particular place, the sushi in this restaurant is delicious and different.
Naraku is also a kid-friendly restaurant since it has a slot machine for kids. The trick is if you order five plates, you get to enjoy the slot machine, which has prizes ranging from soft-serve, toys to your choice of drink.
The menu in Enraku offers tempura and sashimi, which you can enjoy with some sake or alcohol. Ankara is a family-friendly conveyor belt sushi restaurant.
10. Muten Kura sushi.
Muten Kurasushi has four branches within the Osaka prefecture. They offer affordable conveyor belt sushi that is delicious. Unlike some kaitenzushi, the sushi here is made without chemical flavoring or preservatives.
They also offer nutritional and allergy information on their homepage, so you need not worry about your diet. Apart from their sushi menu, they offer other side attractions equally delicious like curry, tendon, ramen, and udon.
What's more, they have desserts, and you can also reserve seats online. Muten is open 24 hours, so you can also steal a late-night meal here. They aim to please.
READ MORE: The Most Incredible Japanese Gins You'll Ever Taste
What Conveyor Belt Sushi means
For those probably visiting Japan for the first time, Conveyor belt sushi, also known as a sushi train, is a form of sushi served in specific restaurants in Japan.
These sushi restaurants are also called Kaitenzushi. Here, sushi plates are served in a conveyor belt or rotating tray for customers and billed by the number of sushi plates consumed.
Tips for visiting a Kaitenzushi Restaurant
Please avoid cameras on the belt; the conveyor belt is only for food.
Try not to take food from other people's table
Do not take food from the conveyor belt with your chopsticks.
Conclusion.
Whether you're planning for a short stay or you want to try out sushi in Japan during your visit, and you're looking for kaiten sushi, these conveyor belt sushi restaurants are some of the best to try anywhere across Japan.
If for any reason you're outside Japan in places like the US or London, then you should check out the Kula Revolving Sushi Bar or Kulu Kulu Sushi, respectively. They are some of the best conveyor belt sushi restaurants.