Japanese Guitar brands produce some of the best guitars professional guitarists or beginners use. These products are most sought after due to their excellent quality and style. What's more, the products are reliable and efficient. As a guitar lover, you may even have an electric guitar from some of these top Japanese guitar brands in your home or studio without even knowing. Here are the top 10 Japanese electric guitar brands in the market.
1. Yamaha.
You probably have a Yamaha in your guitar collection. This brand is by far one of the most famous Japanese guitar-producing brands. In fact, it has been in the business of manufacturing guitars for a while.
Yamaha was founded in 1887, making them one of the oldest Japanese guitar brands. Initially, the brand focused on producing pianos and other instruments until the 1940s, when they began producing guitars. Yamaha Electric guitars began producing electric guitars in 1966.
With Yamaha, quality is rest-assured. The brand has a unique manufacturing process and craftsmanship that makes it stand out. In fact, products are designed with their customers in mind.
Series like Pacifica Electric guitars, SG series, SA series, and semi-acoustics are some of the electric guitars they produce. SG7 electric guitar was the first produced guitar from this category. Others include RevStar.
Revstar was launched in 2016; it is one of the newest series in their collection. Yamaha products are of high quality and distinctive. They have just about the right design for everyone, from beginners to professional guitarists.
2. Ibanez. Ibanez is a Japanese guitar brand owned by Hoshino Gakki, a manufacturer of Japanese musical instruments. Guitars produced by this brand include acoustic, electric bass, electric guitar, and other accessories and musical instruments.
Since its establishment in 1957, the brand gained a significant foothold on guitar sales in the United States and Europe. It is one of the first Japanese Guitar brands to have crossed such a milestone.
When it comes to electric guitars, Ibanez stands out for its eccentric and original designs. Though the brand started copying other American brand styles, they have evolved to create amazing original products. What stands them out is the seven and eight-string guitars they produce.
The Ibanez brand has several guitar series like the Ibanez J. custom, Ibanez prestige and Ibanez premium. These designs are produced with great craftsmanship and high-quality materials. To get a quality Ibanez electric guitar, you might spend at least a whopping $500.
3. ESP Guitars.
ESP (Electric Sound Product) Guitars is another top Japanese electric guitar brand that is a leading manufacturer of Guitars and Basses. It has its headquarters in Hisatake, Tokyo, Japan. Founded in 1975 by Hisatake Shibuya, ESP guitars produce some of the world's best shred guitars.
This brand undergoes a series of rigorous craftsmanship and style to produce some of the most amazing products. For instance, original series are handcrafted and properly styled with high-end materials to suit customers' needs.
One of these quality guitars costs between $500 and $1000. Quite expensive, right? But the products are worth every penny. This brand has several amazing products, and some of the best electric guitars include the ESP Edward series.
ESP guitars brand sells both in Japan and other places around the world, and they have just the right electric guitar for you, whether a beginner or professional.
4. Takamine.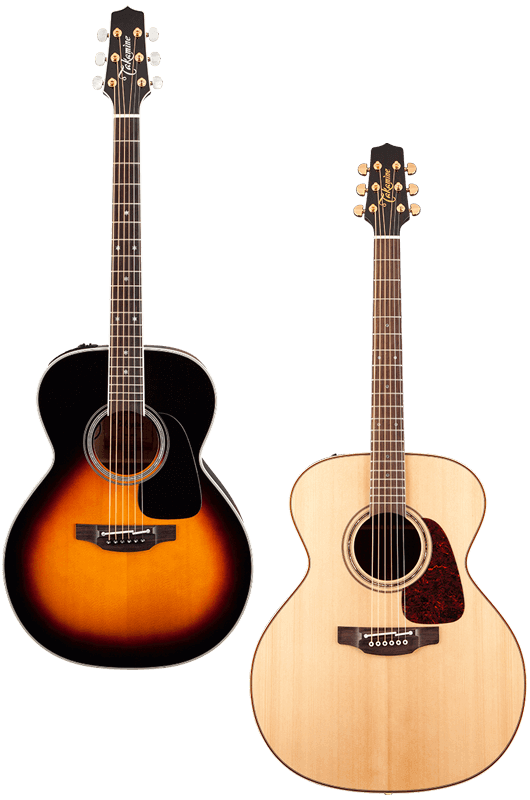 If you're looking for steel-string guitars, the Takamine guitar brand should be your go-to. As an instrument brand, Takamine produces acoustic, lead, and electric guitars. Like the Ibanez brand, Takamine has been manufacturing guitars in Japan for a while and is a major manufacturer.
The company was established in 1962 by a small family who sold guitars. The name of this brand was derived from Mount Takamine in Nakatsugawa, Japan, while the company sits just at the foot of Mount Takamine.
Having several designs that are top-notch, Takamine is one of the first brands to introduce acoustic-electric guitars. Their products are high-quality, usable guitars that are suited for a variety of playing levels and styles.
One thing that stands this brand out is the handcrafted wooden guitars using the finest of seasoned woods. There are several series produced by them, but the acoustic-electric instrument includes the G70 series that is stylish, looks great, and has premium sound quality.
5. Greco guitars
Greco Guitars is a brand that deals in electric guitars as well as other electronic accessories. The Greco guitar brand, owned by the Kanda Shokai corporation, began in the 1960s as a wholesaler of guitars but moved to make American brand replicas at pretty low prices.
Soon enough, this brand became popular for the quality replicas they sold. As a brand, Greco has produced guitars for other brands. Like the FujiGen brand. However, in 1972, it debuted its original guitar series known as the Super real series.
From there, it launched other series like the Mint collection series. Greco electric guitars are durable, strong, and of high quality. You can check out the Greco GO1000DS. It is an amazing body of work with a neatly done wood finish.
6. Fernandes Guitars.
Fernandes Guitars is one of the most famous Japanese electric guitars globally, famous for its unique designs. Fernandes guitars have become a strong contender in the Japanese guitar market. Fernandes guitars were established in 1969 in Osaka, Japan.
It has a sub-brand known as Burny that produces Gibson replicas. Fernandes guitars may not be the oldest brand on this list, but its products are popular worldwide and in the Japanese market. Fernandes guitars manufacture bass guitars, electric guitars, acoustics, accessories, and amplifiers.
One interesting thing about Fernandes's guitars is the sustainer system.  It utilizes electromagnetism that helps vibrate strings for an unlimited time; depending on how long the guitarist frets the notes.
Fernandes works for every user. It is an all-purpose producing brand with both modern and vintage-styled instruments. Several popular musicians use this brand, like Brad Gillis of the American band "Night Rangers" and You of Japanese hard rock band 'Dead End'.
These artists own their own models from this brand. So if you're looking for a strat-style guitar, you can check out the Fernandes ZO-3.
7. Tokai Gakki.
This is another guitar brand that has been in the business for a long time. In fact, it is one of the leading manufacturers in the guitar market. Established in 1947, Tokai guitars produce virtually all kinds of guitars in Japan, including acoustics. In the past, they produced instruments like pianos, guitar amplifiers, and melodicas.
Products the brand deals on currently comprises electric guitars, acoustic guitar, bass guitars, and autoharps. Tokai Gakki has been known to produce quality products. Their electric guitars are one of a kind. Series include THB, ATE, AJM, AST, and Talbo.
A good Tokai Guitar is about $500 to $1000. The legacy series SG style Electric black is one amazing product to look out for. It features carbonized Jabota wood as well as a maple neck.
8. Aria Guitar.
Aria guitar brand owned by the company Aria Guitar Co. is famous for producing high-end electric Guitars. The brand was established in 1956 in the Nagoya district of Japan. Initially, the company started retailing acoustic guitars until 1966, when it began manufacturing its electric guitars.
Aria guitars are famous for their innovative nature, quality, and manufacturing techniques. The brand is famous, but it has also been used by several artists in the music industry. Aria guitar brand was renamed Aria pro II. One popular product is the Aria Pro II Jet LPBL electric guitar.
9. FujiGen.
FujiGen is another Japanese guitar brand that produces not electric guitars but also classical guitars. In fact, it began with producing classical guitars in 1960 before it introduced electric guitars in 1962.
When it comes to popularity, FujiGen is quite famous in Japan and has the highest number of designed products in Japan and is loved for their capacity and quality. With fujigen, you can modify or repair your guitar.
Apart from the high-end quality of materials used in producing these guitars, FujiGen guitars have a unique style that differentiates them from others. Check out the Fujigen Electric Guitar Boundary Odyssey series.
10. Guyatone.
Guyatone is another top Japanese electric brand that produces guitar amplifiers, effect pedals, and electric guitars. Though the company has been in existence since 1933, it was in the 1940s that it began to specialize in manufacturing standard electric guitars introducing the EG and LG series.
Guyatone was founded by Mitsuo Matsuki. In the 1960s, a funky offset guitar was introduced. Apart from manufacturing amazing designs, Guyatone also specializes in producing guitars for other brands. What stands Guyatone out is the simplicity attached to this original design.
Conclusion.
Japanese guitar brand has produced some of the best guitars that your favorite musicians use. They are well produced with high-quality materials and an excellent finish. If you are looking to purchase a Japanese branded guitar, these are some of the best brands to buy from. Their uniqueness makes them stand out.