There are so many ATV companies producing unique models today, which makes it challenging to choose from. If you're considering getting an ATV, it is essential to select the best ATV brand you love. Japanese ATV brands are some of the best in the market. In fact, they are popularly known to produce the most astounding ATVs that are reliable. In this article, we'll list the top Japanese ATV brands today.
About ATV Japanese Brands.
ATVs, also known as quad bikes or All-Terrain vehicles, are automotive used in a wider variety of terrains than other vehicles. Japan is the third-largest automotive producer globally, manufactures some of the best ATVs in the industry.
In fact, Japanese ATV brands are among the top 10 best ATV brands in the world. Since Japan is known for its great craftsmanship, it is not out for its brands to be among the most sought-after brands in the market today.
Though so many companies are venturing into the ATV industry, Japanese brands are still topping the charts. Their products stand out due to their build, durability, performance, shape, and speed.
The major Japanese ATV brands include Yamaha, Honda, Suzuki, and Kamasaki. While all four are incredible brands, Yamaha and Honda are the most popular of all four brands. They all offer a range of models suitable for your driving needs. While some specialize in professional and sports rides, others are beginner-oriented products.
SEE ALSO: Best Japanese TV Brands.
1. Honda.
Honda is very much a famous brand with large followings and is the first on our list of top Japanese ATV brands today. It was founded in 1970 and manufactures several automobiles such as motorbikes, cars, Jeeps, and ATVs. Interestingly, it is considered the second largest manufacturer in the world, producing both ATVs and Motorcycles in the global market.
Honda began producing ATV models in the 70s, and since then, they have become one of the big names in the industry, producing solid and advanced ATV models. This brand stands out because its products are designed for all ages and all riding stages. Be it a beginner or an expert.
ATVs of this brand are strong and durable. They have features that make them fit and safe for beginners. Most people who opt for this brand are looking to get an ATV product to use for fun. Since their products are safe, reliable and robust, it suits the needs of beginner riders.
What's more, they are relatively cheap and affordable. Apart from that, Honda offers products for professional riding or racing. If you're a beginner looking to have the best time of your life riding some ATV, Honda ATV models are your best bet.
The features they offer make their products beginner-worthy. Some of their best products include
Honda FourTrax Rancher
Honda TRX450R
Honda TRX400EX
Honda TRX250R
FourTrax Rincon.
The most popular Honda ATVs are the Honda CRF150R and Honda Rancher. CRF150R model is a rugged and powerful product, perfect for almost anyone. While the Rancher is designed explicitly for general purposes with a variety of features for exciting adventures.
For a high-end product, you can check out the 2021 Honda Pioneer 700A. It is great for adventures and reliable even in inclement weather. It is excellent for thrills and adventures. Honda Pioneer features fuel injection, full electronic advanced transistorized ignition. The engine type is liquid-cooled, which makes it great for quests.
The Honda Fourtrax series is another ATV that is definitely worth your money. It has a 5-speed semi-automatic transmission that is user-friendly and interchanging 2WD and 4WD features. However, for a more professional ATV, the Yamaha brand is your best bet. It will give you the best expert experience.
2. Yamaha.
If you're looking for value for the price, the Yamaha brand is undoubtedly your best bet. Yamaha is one of the most famous Japanese ATV brands today. Owned by Yamaha Motor Company Ltd., it was established in 1955 in Iwata, Shizuoka, Japan.
After separation from Yamaha Corporation, renowned for manufacturing several different products, including Pianos and Guitars, Yamaha Corporation still holds a significant share in Yamaha Motors.
Apart from ATVs, Yamaha produces other automotive-like motorcycles, golf cars, automobiles, e-bike systems, scooters, and electrically powered bicycles. Yamaha ATV designs are top-notch. In fact, they are designed for any kind of condition, giving you maximum power and control. With their products, you need not worry about bad roads or rocky trails.
This brand offers several ATV models for beginners, advanced and racing jobs. Since they are concerned with giving value and deep satisfaction, Yamaha ATV products most definitely portray these philosophies.
Not only is the company known for producing some of the best ATVs, but their products are also innovative, efficient, and reliable. One reason why they are pretty expensive. But if like me, you're concerned more about the value, then the ATV from this brand is what you need.
Their products are definitely worth the price, and they have held the position of one of the most sought-after ATV brands for over 30 years, competing with other major brands. To get the best of Yamaha ATV, check out the newest Yamaha Raptor model, the 2021 Yamaha Raptor 700R.
This ATV product is a popular model that features a strong engine, electric starting, comfortable seats, and wired tires safe for off-road use. Other great products include
Yamaha Grizzly EPS XT-R
Yamaha RAPTOR 700
Yamaha Kodiak 700
Yamaha Grizzly EPS
Yamaha yfz450r.
If you're looking for an intense and fuel-efficient ATV, then Yamaha Grizzly EPS is just the right product for you. It features an excellent liquid engine that keeps the machine in check should the rider decide to go off-trail.
3. Kawasaki.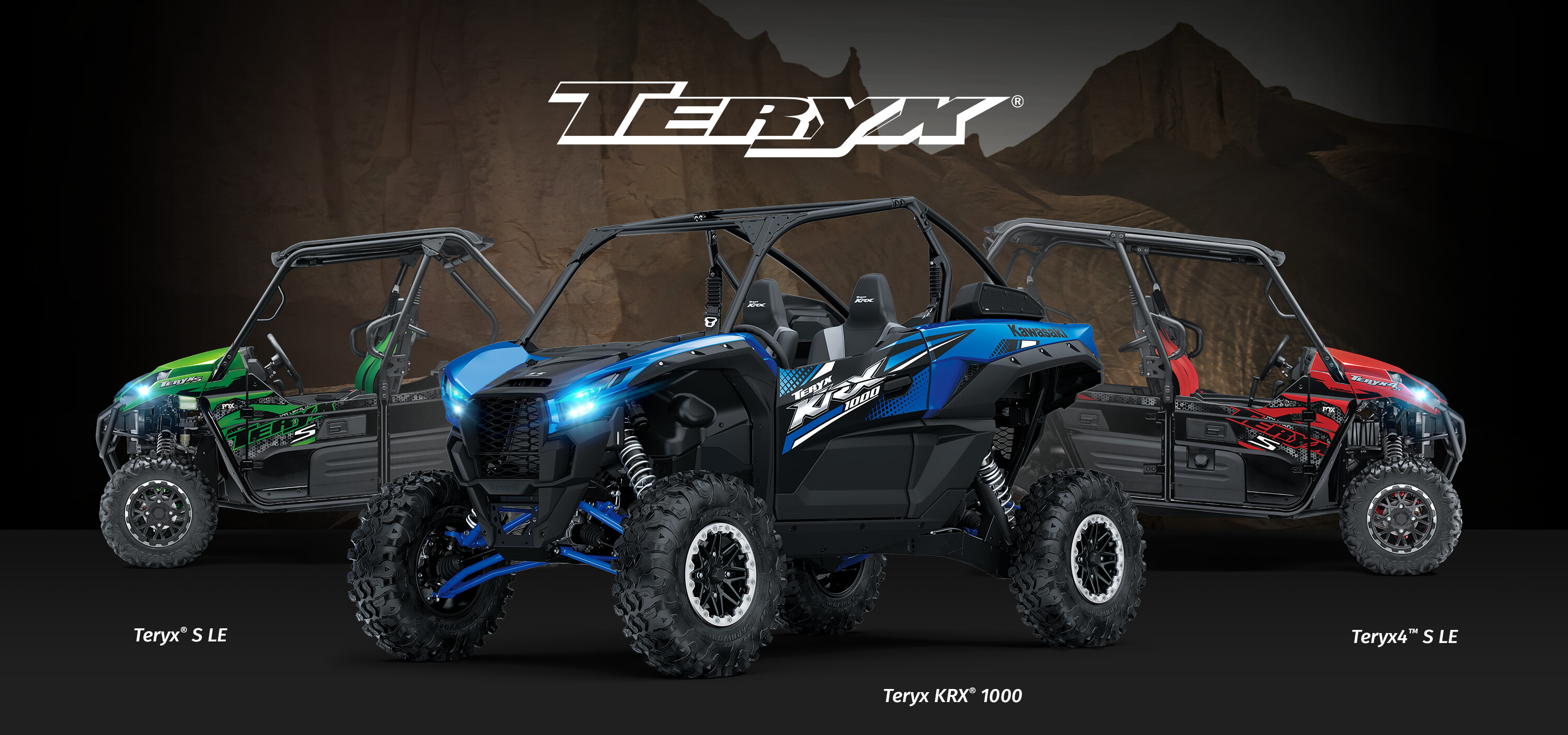 Kawasaki is another Japanese ATV brand that manufactures powerful and top-notch ATVs. As a multinational company, Kawasaki was renowned for creating the first 400 cc engines in the automotive industry. Currently, its 400 cc subscription is one of the best in the market.
Since its ATV production in 1981, it has received a wide range of acceptance and patronage. In fact, this brand has sold over 30 million ATVs in Japan alone. Kawasaki is a brand that is known and loved by many.
Kawasaki is also popularly known as Ninja Motorbike. This is due to the quality of their products. Kawasaki ATV product boasts of power, great quality, fantastic performance, and lifelong service.
Recently, the brand introduced some cutting-edge technology to manufacture the ATV products that customers have come to love. Their top-rated products are the KFX series and the BRUTE FORCE. The KFX series is designed specifically for kids and adults who want some adventure.
The BRUTE FORCE series, on the other hand, is more powerful. It is the best ATV for adventures and service jobs like gardening, towing, and agriculture. Popular Kawasaki models include the Kawasaki Teryx.
This model features a brushless electric motor with adjustable suspension. It is strong against rugged terrains and durable for sports and recreational activities. With Teryx, you can go anywhere. Some of the best Kawasaki ATVs include
Kawasaki BRUTE FORCE 750 EPS
Kawasaki BRUTE FORCE 300
Kawasaki KFX 50 and Kawasaki KFX 90
SEE ALSO: Top 10 Refrigerator Brands In Japan.
4. Suzuki.
Suzuki is another unique ATV brand that is the fourth on our list of top Japanese ATV brands today. Like the others mentioned here, it is a top contender in the ATV market, competing with top ATV brands across the globe.
It was established in 1909 and is owned by the Suzuki automobile company. It produces some of the strongest ATVs in Japan. Currently, the brand boasts 45,000 employees in 35 manufacturing facilities in about 23 countries around the world. The brand Suzuki stands out for its creation of an ATV with dual support for the sport. Interestingly, it was one of the first companies to have come up with such innovation.
Though Suzuki models are not as popular as they were, they still produce really powerful ATVs. Two major series from this brand include the KingSquad and while the other is The QuadSport series.
While the Kingsquad series is used mainly by farmers, ranchers, hunters, and workers at construction sites. Some of the best Suzuki products include
Suzuki KingQuad 750AXi Power Steering SE /Camo
Suzuki KingQuad 750AXi
Suzuki KingQuad 500AXi
Suzuki QuadSport Z90
Suzuki QuadSport Z50
These Suzuki products have great speed and are perfect for rough and uncemented areas. Though Suzuki products are a little expensive, there are other cheap and affordable ones. You can check out the Suzuki Kingquad 300A.
Conclusion on best Japanese ATV brands. 
In the ATV market, Japanese ATV brands are winning. They are robust, durable, and affordable. While some of them are all-purpose, most of them are manufactured for particular purposes. If you are a beginner in the ATV riders' community, I recommend buying from the Honda brand. Brands like Yamaha produce ATVs that are more technical and are better handled by professionals. You should also remember that before purchasing any product, consider your budget and the cost of these products.