Onsen towns in Japan are part of the core and distinct features of Japanese culture.
You may be wondering what it is. Well, Onsen is a natural hot spring. Historically, it is said that taking hot spring baths has been known to purify the body both physically and spiritually.
There is no denying that Japan is rich in beauty and culture. Having quite several Onsen towns popularly visited by international and local tourists. Trooping in to experience its beauty.
It will be a disservice to visit Japan and not experience the beauty of the Onsen towns. Here are the top 10 Onsen towns in Japan we pulled up for you.
1. Kusatsu Onsen
Kusatsu Onsen is situated high up on the mountains of Gunma with its beautiful sight. This town holds some of the best hot spring baths in Japan. It is also rated as one of the top hot springs and honestly for a valid reason.
To let you in on some of the mind-blowing things about the hot spring baths in Kusatsu town is to tell you about the rarely spotted method of cooling hot sulfuric acid on display here. It is quite an experience for visitors who are almost always left in awe of this act.
But that's not all. Thousands and thousands of liters of water flow down from the mountains to the town every single minute, filling the Onsen. This description does not in any way give out the gravity of this grandeur, you have to visit to see for yourself how much beauty this Kusatsu Onsen holds.
2. Gero Onsen
If you are looking for a quiet getaway to relax and unwind, Gero Onsen is the right place for you. It has been rated third top-ranking hot spring bath in Japan by the Confucian poet Hayashi Razan.
It is located in the Gifu region, between Nagoya and Takayama. Gero is famous for the Onsen located in this town. It has with it this discreet, hidden feel. It is not in the spotlight. Which is the more reason why it may just be the right place for you.
There are several public open-air bathhouses in this town and a few have free access. Mostly the one located near the Gero Bridge. You should know that to have access to any of these hot spring baths, you need to secure a spa pass known as Yu-Meguri-Tegata for about 1300 yen.
You can get one from any ryokan, souvenir shop, convenience store, or tourist office in Gero. The town itself offers astonishing ryokan accommodation with hot spring baths. Once you have your spa pass, you have access to the Onsen for about 6 months.
3. Kurokawa Onsen
Luxury and greens are what make this town stand out. Kurokawa has been known for keeping a traditional atmosphere with its rusty look and feel, to preserve its historic roots. It is one of the top Onsen towns in Japan.
With several bathhouses, ryokans and shops lined up in the streets of Kurokawa, it is difficult to miss out on its beauty. It is said that the hot springs in this town are good for nerve pain. Kurokawa Onsen sits in the west of Japan and has been there for centuries.
Not only do tourists visit this place for the hot spring baths, but they also visit the amazing structures the town has.
When you take a walk around Kurokawa Onsen, you can't help but notice tourists and Japanese locals in their yukata, enjoying the atmosphere and the amazing views it has. You won't also fail to notice and feel the historic presence of the Kurokawa Onsen.
4. Hakone Onsen
The Hakone Onsen is less than two hours from Tokyo and a must-visit for anyone traveling through the neon city. It is one of the top Onsen towns with several souvenir shops and luxury ryokans to pick from.
From here, you can get a view of Mount Fuji. There are several Onsen in this town like the Yunessun where visitors can soak in wine or coffee. In this resort, visitors pay between 1500 to 2500 yen. Tenzan gives a more traditional feel with Japanese culture and local dishes.
Unlike other Onsen towns, the Onsen in Hakone is known to have more private hot spring baths with extreme luxury.
5. Kinosaki Onsen
The Kinosaki Onsen is defined by nostalgic arcades, willow trees, and old-fashioned ryokans it possesses. According to Lonely Planet, this Onsen is the best hot spring town in Japan. In this town, there are about seven public hot spring baths.
If you were to tour this town, lodging in any of the ryokans in this town gives you free access to any of the seven hot spring baths in the town.
From Kinosaki Onsen, you can access mt. Taisha. You only need to take the ropeway at the far end of the street. You can also visit the Kinosaki Straw Craft Museum.
6. Dogo Onsen
You may already know Dogo Onsen, as it is quite a popular Onsen town not just in Japan, but around the world. Well, this was after it was after the popular anime titled Spirited Away featured the Honkan.
Before then, however, Dogo Onsen was popular with Japanese locals. Located in Shikoku Island, this Onsen is the oldest in japan; about 3000 years in history.
What makes Dogo Onsen a tourist attraction is because it features a large bathhouse in the form of a castle and several ryokans resting beautifully in the town. The bathhouse is called Honkan.
Unlike other Onsen towns that offer rustic and ancient ambiance, Dogo Onsen is full of life, with colors that give you the city feel. There are lots of hot spring baths situated in the town. For those who prefer a more quiet scenario.
But if you want a more crowded, "I-was-at-the-famous" type situation, then the Dogo Onsen Honkan is pretty much where you should be.
7. Zao Onsen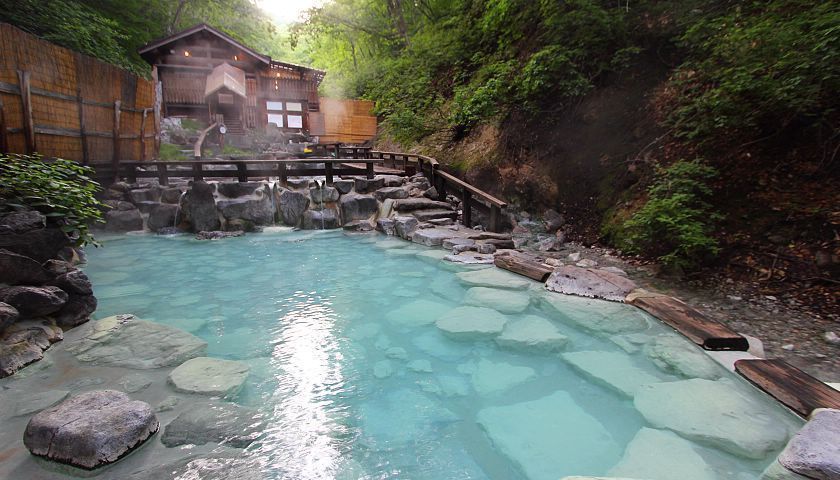 Zao Onsen is a more commercialized Onsen town than others. It receives an extraordinary amount of visitors every year not just because of its beautiful hot spring bath, but because it offers more activities that people can participate in as well as a variety of local dishes around the town. Activities that you can participate in include skiing, snowing, hiking, and using ropeway to explore the area.
Before moving on to other amazing Onsen locations that Japan offers, you should know that Zao Onsen is known for two things; the easily accessible majestic hot spring destination and a snow resort destination during winter.
This town is just 2 to 3 hours from Tokyo if you take a direct train.
8. Yunomine Onsen
Yunomine Onsen is located along the famous Nakahechi trail close to Hongu. It is quite a popular stopover for those hiking on the Kumano Kodo trail.
Some say it is one of the oldest hot springs in Japan and was discovered more than 1800 years ago. This town embodies charm and character with historic structures and small roads. It also has tiny secluded ryokans built in the mountains of Kumano.
If you are looking for a serene, quiet place, away from noise and cheers, this Onsen is your best bet.
9. Noboribetsu Onsen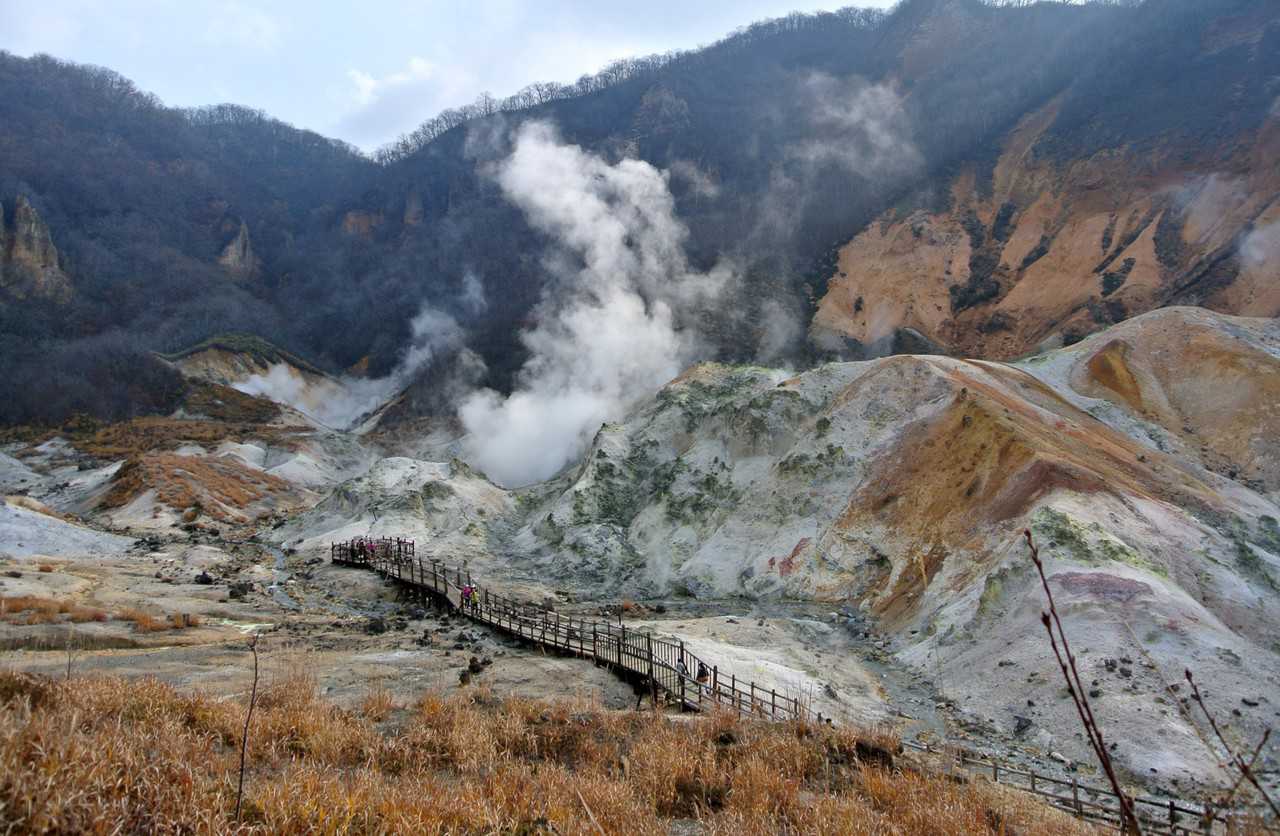 Noboribetsu offers a fantasy-filled experience. Located up north, at the foot of the volcanic mount Hiyori. It is unique for having mist, smoke, and fog constantly surrounding it. It gives the feel of walking through a dystopian town.
To be honest, the photographic view it gives visitors is simply amazing. There are other activities to be done in this town like visiting several hot spring baths, resting your feet in a natural footbath, and visiting the roundest lake in Japan, the picturesque lake Kuttara.
Visiting this town would give you a license to real-time bubbling hot spring baths. These baths contain sulfur and hydrogen sulfide that softens the skin and lessens fatigue. The minerals in the watercolor of the landscape give it the nickname "hell valley".
10.Yufuin Onsen
When it comes to a countryside type of view and feel, Yufuin Onsen is very much the right and perfect description. It offers a laid-back, enjoyable atmosphere and scenery with several hot spring options scattered around the town beautifully. It also offers several amazing cuisines for you to pick from.
Yufuin Onsen is a small town located at the foot of Mount Yufu within the Oita. If you wish to combine hiking and a beautiful view of hot springs, Yufuin Onsen might just be the right place for you.
What better adventure than hopping into a hot spring at leisure from a mountain position. Such an experience will be more than exciting, it is simply beautiful.
Conclusion.
The above-listed Onsen towns are probably closest to your location. They are really beautiful places and the experience you'll get will be worth your while. Japan is a great place to visit and if you haven't visited yet, you should.