Fashion is huge in Japan. When there is a new fashion trend, the whole world seems to hear about it. I'm going to introduce some of the most popular Japanese fashions trends that are currently trending.
As you proceed in the counts, you get to know which one suits taste and luxury, comfort, and so many other factors.
Japan is certainly one of the leaders in the fashion world. Japan is fashion innovative and has fantastic individualistic clothing styles that most fashion lovers will nurture. It is no news that new people and brands come with several interesting fashion inklings that pave the way for a big fashion trend.
10. Jogger's bottoms.
The Jogger's bottoms are one of the most Popular Japanese Fashion Trends. It is in vogue and highly recognized in Japan. It is the bottom of athletic joggers. Before now, most people saw it as being out of fashion and kind of ludicrous to wear on contemporary dresses. For instance, imagine wearing such joggers with an expensive designer coat. You wouldn't rock that. However, there is a way you do that makes it lovely and look presentable.
It is a fashion trend in Japan. These versatile joggers, runners, or track pants are the ones you are familiar with and they come in different designs. Initially, these clothes are used for sporting activities like exercise and workout sessions.
Its use and purpose were altered and redirected to look more like streetwear to have a high-end look. Jogger's bottoms target the end of the joggers. You can wear it on a boot and a long coat. The bottoms of the joggers come out to show the magnificence of the dress. Mostly, it is advisable to go for a pair of joggers with double white stripes.
9. White on white.
As the name implies, white on white entails wearing white on white. It is usually different shades of white. As an illustration, your big top can be pure white and the color of the shoe or shorts can be another shade of white. Over the decade, this fashion trend has come and gone. This year, Japan is bringing it back to life and it is here to stay.
It has to do with pairing distinct shades of white together, to form a minimalist layered look. However, it is not mandatory to use the exact type of fabric, what matters is the color.
You can pair different cloth pieces and materials like linen, chiffon, and lace materials. So, pairing lace material and chiffon to create a white-on-the-white dress isn't bad, what matters is that they must be white. To give birth to good designs requires creativity.
One must be unique with the designs created to look outstanding, amongst those that also rock white on white. You can also use your material to create shoes and bags of the same color. It can be anything fashionable with the white fabric.
READ MORE: Top 10 Japanese Perfume Brands.
8. Cropped Blazer or jacket.
The cropped blazer or jacket is one of the most Popular Japanese Fashion Trends In 2021 and has been around for a while now. It came to the limelight this year and most people admire its beauty and it became viral and well known by many fashionistas and models. So far, it has become a top-notch fashion trend in Japan. There is a difference in the length of the jackets. One side looks shorter than the other.
Sometimes, a change in a normal thing may not turn out to be a mistake. It can be used as a design in disguise. Initially, jackets have equal lengths, but in this trend, the reverse is the case. One side is cropped. It is fashionable and it attracts attention when seen on someone.
Since the hip length kind of blazer has reached its peak, the new style in Japan is the cropped blazer. In most cases, the jackets are not too big. It should be fitted, so the cropped design layout can be caught sight of. The best kind of dress to wear under it should be casual tops that we tuck in pants. It looks more beautiful that way.
7. Silver and metallics.
This is also one of the most Popular Japanese Fashion Trends. In this trend, anything put on must go in line with the silver or metallic color. Silver and metallics once existed in the 80s when most people were obsessed with fashion.
At a time, its popularity died off and now it was brought back to vivacity by the Japanese. It has to do with materials and color. These materials are shiny and call for notoriety. They usually add a shiny personality to your wardrobe. You can use this design for skirts, pants, tops, and many others.
It is solely to give a glittering outlook when you put them on. Since your dress is silver and metallic, you should accompany it with metallic footwear and adornments. For instance, wearing a silver shoe and shiny clutches on the metallic dress makes the results come out perfectly. Also, it entails the use of silver-looking makeup. Those that practice the trend use silver cheek blushes and silver eyeshadow. Even the lips are silvery and shiny. It looks very sexy and sophisticated.
6. Dalmatian dots.
You are quite familiar with what dots are, and how beautiful they look when they are used to design a dress, bag, or shoe. The Dalmatian dot is one of the freshest Japanese fashion trends this year. This particular trend has influenced the dress sense of other countries. The Dalmatian dot is first used by most Japanese designers and fashionistas. It has gone viral and can be seen in British fashion.
This fashion trend doesn't apply to clothes only. Several bags and shoes feature the Dalmatian dot as a design. The most common color is white and black. White is usually the base color while black is used to carve out different forms of the dots.
On several occasions, the dots are used to design the sleeve, collar, and bottom of dresses regardless of their main color. Pink or blue dresses have dots as the sleeve or collar. The spot can be either big or small. Either big or small dots, it is usually very beautiful when used to design dresses.
5. Bubblegum pink.
When talking of the Most Popular Japanese Fashion Trends In 2021, the bubblegum pink trend cannot be left out. It has been very popular in Japan since the inception of the year. As the color implies, it is that hot fushia pink color. What matters in the fashion trend is the color and how it is used in dresses to ascertain beauty. The color is very unique and flashy. Anywhere you wear it, people will surely notice it. This shade of pink is described as a color of confidence and an attention-seeking color.
This extravagant shade of pink is brought to the limelight by several fashionistas or social media influencers. It is worn as a dress of your choice. Mostly, the dress should also have the exact bubblegum pink and any other color that matches it.
The most used color should be this shade of pink anyways. For instance, when you put on the pink top on a pink short, on a pink booty or shoe. You can make it perfect by wearing a pink hat or cap and socks. Other adornments like bangles, glasses, and earrings can also be bubblegum pink.
4. Wide-leg pants.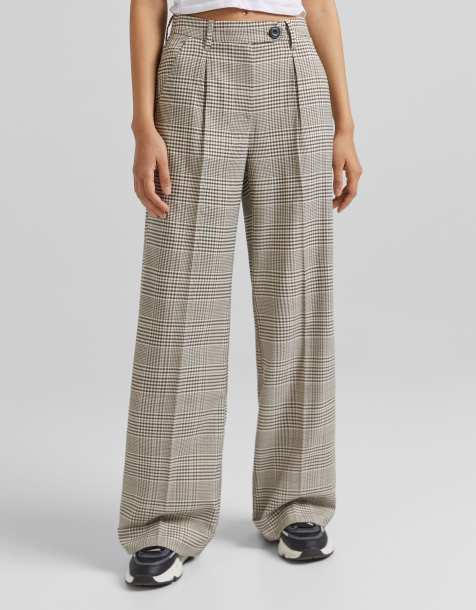 The wide-leg pants are also one of the Most Popular Japanese Fashion Trends In 2021. Not every pair of pants you rock should be skin-tight. This type of pants is baggy and with the introduction of baggy-looking leg pants, it looks more beautiful than the commonly known tight shorts and pants. There is a tremendous shift from tight pants to something very free. The bottom of the pants is very wide and free and that is where the beauty of the dress comes from.
In rocking the best wide-leg pants, nobody does it better than the Japanese. However, certain wears fit the wide pants perfectly. These wears include cropped cardigan, vintage tees, and a statement blouse. Since the pants are wide, it isn't necessary to make the tees or jacket baggy. The top should be fitted ideally. This dress trend is to reflect a slim top and a very wide bottom.
3. Coatigans.
As the name implies, it is a combination of a cardigan and a coat. Coatigans look like a coat and a cardigan at the same time. It comes in different beautiful colors and designs that match one another. For instance, black on green, black on red, black on blue, black on white and so many other attractive designs. In terms of weight, the coatigan is heavier than the usual cardigan and not as heavy or bulky as the common coat.
Albeit, the coatigans can be used to keep you warm in cold weather. However, most people don't use it to keep warm. It is worn for fashion and aesthetic appearance. There are quite several coatigan agglomerations that will entice you whenever you see it. This fashion trend goes well on skirts, pants, or gowns. You must have come across those rocking coatigans in Japan. If you haven't, believe it, it is adorable and you will like to try it. Also, buying different designs isn't difficult, there are several dealers online.
2. Slouchy outerwear.
Outerwears are usually thick and are used to avoid colds. Initially, outerwear is to keep you warm. That isn't the case anymore, outerwear is now used for fashion. Slouchy outerwear is one of the most Popular Japanese Fashion Trends In 2021.
One remarkable thing about this fashion trend is that you do not wear outerwear the normal way. It should stretch out to keep you in style. It is usually an oversized coat or jacket worn through the sleeves to the elbows. It is to add depth and character to your outfit.
Before now, it was made to keep warm, hence, there is no need for it to be made beautifully with fashionable designs.
Today, this is different because most of the outerwear comes with flashy designs. It also comes in several colors you will like to admire. Under the outerwear, you can rock vintage tees and light blouses. Any kind of pants goes perfectly with it. It is very easy to buy one of these when needed.
READ MORE: The Best Japanese Facial Masks in 2021.
1. Designer face masks.
Wearing a face mask in Japan has never been bizarre. The country cherishes value and common decency.  The country cares for the wider community, hence, wearing a mask every day was simply seen as a way to protect others.
Nowadays wearing a mask to match your attire has become a fashion trend and it is very common in Japan. Even before the pandemic that made the use of face masks very common, the Japanese used them for fashion.
The most used color of the designer face mask is black. The mask matches the other black dress. The whole attire may be black from head to toe. Not everyone uses black, a pink mask can be used to match the pink dress. Apart from matching the dress, it can also match the bag or shoe and have the label of the same designer.
The most interesting thing about this trend is that it can be used with other fashion trends. If you are rocking Dalmatian dot designs, the face mask can be of the same fabric and design. The same applies to bubblegum pink and silver and metallic attires.
Conclusion
With the description of the most Popular Japanese Fashion Trends In 2021, you must have seen the one you would like to try for an outing. Some of the trends entail your creativity and how you want it to be while some are readily made. It wouldn't cost you too much to try out these fashion trends.