If staying in a Ryokan is on your bucket list of unique experiences when you visit Japan then there are certain things you need to be aware of. Firstly it is important to know that Japan holds strongly to its customs and traditions. Be it, foreigners or locals, these rules are non-negotiable.
And staying in a Ryokan is no different. There are Ryokan etiquettes you need to know before you take that trip or book a Ryokan reservation. So to avoid any future misunderstandings, we have curated the top 10 rules of Ryokan Etiquette for you.
What is a Ryokan?
The term Ryokan in Japanese means "inn". It is a Japanese traditional styled accommodation that provides you with the ability to experience Japan's unique culture. A Ryokan is mostly seen as a place for relaxation. It is built close to Onsen baths (hot spring baths) in Onsen towns.
Most of which gives you a rich traditional feel. With wooden Tatami floors, your special Yukata robe, hot spring bath, and Japanese hospitality.
The Ryokan experience dates back to the Edo period, centuries ago. Then, Ryokans were built to serve Japanese travelers who shuttle between Tokyo and Kyoto.
There are several ryokans in Japan presently. However, to find a more traditional Ryokan, you have to visit smaller towns. When you visit a ryokan, it is assumed you want some time away from the bustle and hustle of the outside life and have a good time relaxing.
Ryokans are quite different from hotels. They are more traditional and uphold certain traditional rules. Ryokan etiquette may sound a tad difficult and rigid but it is quite simple to adhere to if you know the basics.
So as a tourist, if you have considered staying in a Ryokan, it is only normal that you learn the following rules, to avoid any misunderstandings. This way, you can experience Japan's unique culture.
1. Check-in on time
There is one thing Japanese people are known for, and that is punctuality. Know that when you book a reservation at a Ryokan, you should arrive on time to check in so you won't miss your dinner.
In many ryokans, check-in time begins at 3 pm and ends at 5:30 pm. If you come late, you may still check-in, but will miss your dinner. Here, food is usually served fresh. Staying in a ryokan means having access to a calm atmosphere for relaxation, and having access to meals.
When you check in on time, you could keep your luggage at the ryokan and take a walk to explore the view of the environment and still return in time for dinner. So be punctual.
2. Take off your shoes at the entrance
This rule is non-negotiable. It is part of the ryokan culture. Being in a ryokan is like visiting a traditional Japanese home. You have to take off your shoes at the entrance. Usually, the entrance floor is higher than that of the hallway.
When you come across this, it means you have to take off your shoes. Ryokans have different footwear for different purposes. The slippers you will wear inside the ryokan will be given to you at the entrance.
Some more modernized foreign-friendly ryokans may allow you to wear your shoes at the entrance. However, they still maintain the no-shoe policy in the rooms. Traditional ryokans on the other hand would prefer you took your shoes off and lined them up nicely.
3. Do not Damage the Floor
One of the many things that make the ryokan so unique is the wooden tatami floors at the entrance, hallway, and rooms. You must know this because rolling your luggage on the floor could ruin this traditional masterpiece.
The tatami is an old-aged traditional work of art that has been in Japan for centuries and they do their best to preserve it. So it is uncouth to roll your luggage in the ryokan entrance or hallway and especially in the rooms which have more delicate tatami floors.
And more importantly, this act is frowned upon. You can carry it up to your room so it does not damage the tatami flooring.
READ MORE ON JAPAN:
4. Wear your Yakuta
A Yakuta would be given to you once you are lodged in a ryokan. When wearing a yukata in public, be sure to do it the right way because it is a shame not to do so. Also, do not expose your body when wearing a yukata and when you wear it, do it properly.
Women are to tie their stash around their waist while men, around their hip. Remember that the right side of the yakuta goes in before the left because the opposite of this is how they dress their dead. So put the right side in first, then let the left follow before you tie it up nicely.
5. Bedding
In Japanese ryokans, there are hardly any beds like in a hotel since sleeping on the floor is a traditional Japanese style. Only futon beddings are laid on the floor. These beddings are set by the room attendants so you don't need to worry.
They will also put it out themselves. It is their job. This means, you should prepare your mind to expect this, so you are not caught off guard.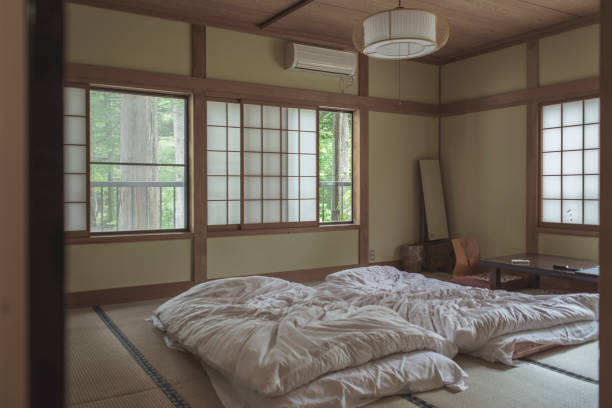 6. Onsen Baths
Ryokans are often built-in Onsen towns, typically close to Onsen baths so guests at the ryokan can use the public hot spring baths. Know that Onsen baths are not for washing your body or swimming.
They are only used for soaking or immersing yourself to get that relaxing feeling you need. Usually, they have a washing area where you can wash before entering the Onsen. Along the walls, you would see small stools, soap, shampoo, and wash buckets.
Do not go with your cameras or phones as photography is forbidden. Some ryokans have special baths for people with tattoos since it is historically associated with crime in Japan. Also, it is completely normal to go into the Onsen naked.
7. Breakfast
Breakfast in the ryokan is as important as anything. Since it is part of your booking, it is only right that you have breakfast. Rejecting their breakfast would be quite unkind because they are all freshly made.
Also, make sure you wake up in time for breakfast. It is usually served between 7:00 – 9:00 am. If you are to check out, be early for breakfast so you can check out at 10:00 am which is the standard checkout time.
8. Tipping
Ryokans in Japan have a no-tipping policy. The only tipping allowed is the kokoro zuke. This is a tip given to the room attendant. It is not compulsory and does not in any way affect how you are treated in the ryokan during your stay.
When you give this tip, do it when the attendant (Nakai-san) serves dinner and uses a paper bag like "pochi-bukuro". Also, the notes should be neat and not wrinkled.
9. Peace and quiet – beware of loud talk
Ryokan buildings are mostly made with traditional wooden materials which means the walls are thin and not soundproof. So to maintain the peace of the place and try not to talk too loudly. Ryokans have bedtime at 10 pm. You are not expected to go to sleep but keep your voice down.
10. Check out
Like I mentioned, punctuality is something they hold in high esteem so be ready to check out. It is also customary to put things the way you found them and try not to leave with anything belonging in the ryokan from your yukata robe to the tea placed in the room for your use.
As with checking in, do not roll your luggage on the tatami floor when checking out, and please do so quietly.
Things to know when before you book a ryokan reservation
When you book an online Ryokan reservation, know that breakfast and dinner are inclusive and you do not want to waste food or reject their hospitality. Kindly check the food menu before booking to avoid this.
Do not cut in line at the reception: Japanese people are good at waiting their turn. As a tourist, trying to bypass will be considered rude.
Give a cancellation notice before time: most visitors who make reservations fail to give a cancellation notice. If you do this, you may not get a refund.
Do not steal or take anything from the Ryokan
Bring cash (Yen mostly)
It is impolite to put bags on the "Tokonoma"
Conclusion
Deeping yourself in a hot Onsen bath is all the more reason why visiting a Ryokan would be a good experience on your tour journey. As I stated earlier, there are several ryokans all over Japan. But you can find traditional Ryokans with great Japanese cultural experience in places like; Kyoto, Arima Onsen, Beppu, and Hakone.
Ryokan etiquette may seem a little too much but will be worth your while when you adhere to these rules.